My Launch Pad - Weekly Organizing Challenge#2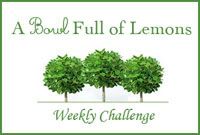 Toni has picked the launch pad for week #2's organizing challenge. What's a launch pad? Well, it's the term used to describe the place in your home where you have everything all in one spot to help launch you on your day. It can also be a landing strip as it's usually by the door that's used the most and stuff gets piled on it. The idea is to keep it organized and make sense so family members don't have to hunt for anything or think about where something is.
In our home, our launch pad is mainly for the kids. I work from home and actually rarely leave the house except to run errands, and not usually in a rush. Christopher has his set routine every morning and Lord help you if you get in his way or mess with the routine - so he gets to put his stuff where ever he wants - usually on his table in the bedroom with coat and hat nearby. So, anyway, the girls need the launchpad/landing strip.
This is the hallway before I made the Launch pad. Zoe's toy cubby was there.
I have seen so many great looking spaces on blogs and in magazines and places like Rate My Space etc. I found some inspiration and put up coat/backpack hooks in the hallway, and underneath it is our old coffee table from Pier One that we didn't want to part with, but we didn't use as a coffee table anymore - it was perfect as a bench under the hooks.
This is how it looked when I first did it before school last summer.
This is with just one coat and backpack...





This is more like reality. All 3 backpacks, 2 hanging coats plus one thrown in there somewhere and the basket of winter stuff
Originally I figure they could sit there to out on their shoes which are supposed to sit under it, but their backpacks are SO huge, that they pretty much take up the whole space.
Also I have the mini laundry basket sitting there that holds scarves, hats and gloves. They don't use all those things, and there's got to be a smaller way to store them there.
Need a smaller, more organized basket.
I also want to see if I can maybe find a nice big basket to contain the backpacks a little better. They tend to just fall off the bench if they're careless with tossing them down.
Since this challenge is about a "launch pad" I decided to try to make it better and more usable for the mornings. Up til now, if one of them wanted to make sure she remembered to take something to school or work on something before school, she'd just leave it sitting on her backpack on the bench. That may be ok, but we have cats. Lots of nosy playful cats. Things disappear. So, I need to find some way for them to have more of a place for things like that. Still thinking on it, but hopefully this week, I'll be inspired some more and find something that works just right.