My 21 Days to Get Organized Challenge Consolidation.
I had these links in my sidebar but they were taking up a lot of room, and I decided this was a better organized way of doing it. :)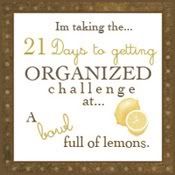 Day 1: Junk Drawer
Day 2: Top of My Desk
Day 3: Tupperware
Day 4: Linen Closet
Day 5: Under the Kitchen Sink
Day 6: My Dresser
Day 7: The Pantry
Day 8: The Coat Area
Day 9: Toys!
Day 10: Laundry Room/Office
Day 11: The Icky Freezer
Day 12: The Spice Cabinet/Drawer
Day 13: The Medicine Cabinet
Day 14: Under the Bathroom Sinks
Day 15: Medicine Storage
Day 16: The Refrigerator
Day 17: Mail Organizing
Day 18: (Keepsakes)
Day 19: (Master Closet)
Day 20: (Photos)
Day 21: My Choice - My Buffet
As I actually finish the other 3 challenges I'll post about them and then add the links here.
There is one more I'd like to add.
I did an "After-After" post as well for another blog hop.
The Groundhog's Day After-After Post